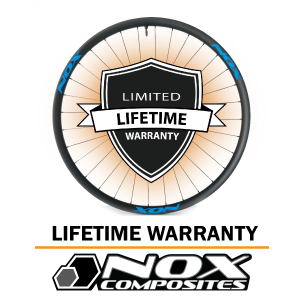 The best rims deserve the best warranty. We test every product we sell during research and development to ensure that our products are not only durable enough for racing and training but also provide the ultimate in performance. Therefore we stand behind our products with the following warranty:
Nox Composites guarantees its wheels and rims to be free from defects in materials or workmanship for as long as you (the original owner) own them! If Nox Composites determines the product to be defective, we will either repair or replace the product at Nox Composites' discretion. This warranty does not apply to defects or damage caused by negligence, accidents, misuse, incorrect installation, modifications, or normal wear and tear. Please note that if a rock or other trail/road debris damages your rim, this is not a manufacturing defect. Such damage would be covered under our Rock/Road Strike Replacement Policy (see below). Cosmetic issues such as decals are excluded from this warranty. This warranty does not apply to parts not manufactured by Nox Composites (ex. hubs, spokes, nipples). For an issue related to these parts, the manufacturer of those parts must be consulted. This warranty is non-transferable and is only valid for the original owner. Valid proof of purchase, pictures of the defect and the rim serial number is required for a warranty claim. Please retain your proof of purchase for any future warranty claims.
2 Year Rock/Road Strike Replacement Policy
We have designed our rims to be extremely durable and we have one of the lowest warranty claim rates in the carbon rim industry. But after building thousands of wheels and getting years of feedback, it's clear than on the rare occasion a carbon rim fails, it's usually when the rim makes direct contact with a rock or other hard object. By checking your air pressure before every ride and not riding on a flat or deflating tire you can generally avoid any damage from rock/road strikes. However, since these types of things do happen occasionally we wanted to put a special section on our Warranty page about it. Unlike almost every other carbon rim manufacturer, we warranty rock strikes. Why? Primarily because we've done our testing and know that these issues are rare on our rims and secondly because we don't ever want you to worry about pushing your limits because you have Nox rims on your bike. So charge that rock garden with reckless abandon and know we have your back. With that being said, a rock strike is not a manufacturer defect. So while we will cover the rim itself, you may be responsible for labor charges (i.e. if you need a wheel rebuilt), parts, or shipping. This policy is only good for the original owner of the rim. Valid proof of purchase, pictures of the damage and rim serial number are required for a rock strike claim. This policy is applied or rejected based on technical analysis of rim damage by Nox engineers; we hold the right to categorize damage as a rock strike, crash, manufacturing defect, alien-induced, etc. Please note that if the rim is more than 2 years old (from the time the wheels were originally order,) and still owned by the original owner, the rim is eligible for our lifetime crash replacement policy.
Lifetime Crash Replacement Policy
We expect our rims to be ridden hard during training and even harder during racing. If you push things a bit past the limit, crash and damage a rim, then we're glad to give you (the original owner) a price break to help get you going without having to buy a new wheelset or rim at full cost.
The cost to repair a wheel by replacing the rim is $350. This option is for those who want Nox Composites to rebuild the wheel. This cost includes replacing the nipples, but does not include shipping or replacing the spokes if needed.
The cost to replace a rim damaged in a crash is $300. This option is for those wanting their local bike shop (if their bike shop is not a Nox Composites authorized dealer) to rebuild the wheel. Please note we do not cover any more of the expenses (like shipping or labor) associated with the rebuild.
These costs include alloy or brass nipples and labor, but do not include shipping to us or back to you. Crash replacement is only available for the original owner and is good for life!
Gorilla Tape
For some unknown reason, we see people regularly use "Gorilla" tape on our rims. Please don't do this. Our rims are design to high tolerances and the thickness of the gorilla tape compared to our TPP tape can make it really difficult to mount some tires. It's also a royal pain in the butt to remove and leaves a residue behind you will never get off the rim. It's also heavy. Use duct tape for sealing ducts, not on your carbon rims.