King of Pisgah
Submitted by

bfroystad23

on
Double Dare and King of Pisgah Series
A Race Report
My teeth are chattering. I'm currently trying to mount my helmet light but my hands are shaking from the cold. I can't figure out why I'm having such difficultly mounting the light. My brain must be mush from the fatigue. I smile and think that I was built for these crazy rides. My mind wanders back to how I started these events.
It is late fall of 2010. Bo Ofarrel and I are stopped for a break at the top of Laurel Mountain. He's telling me about some race where racers start at the Pisgah Ranger station and navigate to different checkpoints in the forest; usually an 80 mile day. Something called Pisgah Mountain Bike Adventure Race. Sounds huge and impossible I say. Though, If I were ever to do a race then that would be the one, I think to myself.
Skip ahead to May of 2011 and I had just finished my first race ever, PMBAR. Previously my longest ride had been 30 miles. I had just completed 78 miles. It was the most painful and yet somehow the most fun I've ever had on a bike and I was hooked. Then someone told me about Double Dare which is basically TWO back to back PMBAR's. I knew I had to do it.
And now here I am racing in my fifth Double Dare. My teammate, Thomas Turner, sees me struggling with my light and fixes it for me. We have got to get moving to stay warm, I say aloud. We head up Buckhorn trail towards the shelter, where we have to take a photo for the next cp. I see campers at the shelter but I'm so out of it, I roll right up to it and blind everyone with my lights. I loudly say something to Thomas. Then a man kindly tells me that there are people praying. Huh? Now I see a large group standing in a circle praying. My soul could use saving right now but we don't have time for that.
The day started out with a time trial to Coontree picnic area to get our race passports. The catch was we had to get there via Cove Creek, Club Gap, Bennett and Coontree. Definitely the roundabout way; albeit the fun way. We won the time trail, gaining a 90 minute time bonus. Once we got our passports we made our route plan to get all 10 checkpoints. We've since gone up Black Mountain, down Turkey Pen Gap, waded through 11 thigh deep river crossings past Vineyard, rode all of Squirrel Gap and here we are now on at Buckhorn Gap. That leaves the remaining checkpoints of Club Gap, Daniels ridge and the 5003/140a intersection.
I'm surprised how quickly we pick up the last checkpoints. We roll back to the finish having collected all 10 checkpoints in 72 miles with an hour and a half before the time cutoff at midnight. We were the only team to get all 10. Next up is the midnight special challenge for an added checkpoint. This year it's another short track race around the campground. Midway through Thomas goes to hop a split rail fence and his rear wheel clips the top rail which throws him into a huge crash. Right in front of all the spectators. Definitely the highlight of the weekend for me. Thomas and I end up going 1-2 in the race gaining us 2.5 hour time bonus.
We make it to bed at 2am for two hours of sleep before the day 2 race start at 6am. Sunday goes by smooth. Despite the long day yesterday my legs feel strong and ready to be in the forest all day. At the mandatory cp we can gain an extra cp if we pass the special test. Our choices are win at black jack, answer algebra questions, or archery. I'm horrible at cards, even worse at math but thank goodness Thomas is clutch with a bow and arrow and gains us the cp. We collect all the checkpoints and end up finishing 1 full checkpoint ahead of the other teams, giving us the win! Thomas earns the King of Pisgah title and I claim 3rd in the series. So does that makes me the joker of Pisgah? Not sure.
I am most struck by how far I seem to have come since my first Pisgah event. For the previous four years I feel like I have slowly been groomed for this year. To do well at PMBAR and Double Dare you really need to know every trail in Pisgah and have quick analytical thinking to piece together an efficient route to navigate to the various checkpoints. I feel like I've always had at least one navigation misstep every event. Learning from the original crew who always do well, like Chris Brown, Dave Simpson, and Matt Fusco, have taught me the needed experience. Since Pisgah is my own backyard now, I'm particularly proud of my race results here.
The whole King of Pisgah Series is made up of the Pisgah Mountain Bike Adventure Race (3rd place finish,)111k (11th,) 55.5k (4th,) Pisgah Monster Cross (42nd,) and Double Dare (1st.) This amounts to almost 40 hours of racing and nearly 400 Pisgah miles. Each race is different and the courses are very challenging. I feel like the series rewards those that not only have good fitness but also those that have technical skills, good strategy, and the hard man attitude to tough it out. Eric Wever (the promoter) challenges each racer to push themselves far beyond what they thought was possible for themselves but somehow Eric has full confidence in us and he's always right! The events seem to attract the best group of racers too. Here everyone is your friend and even though the competition is tough, it plays out in the most gentlemanly of ways. So if your racing is becoming stale or you want a new challenge, these events will be your breath of fresh air.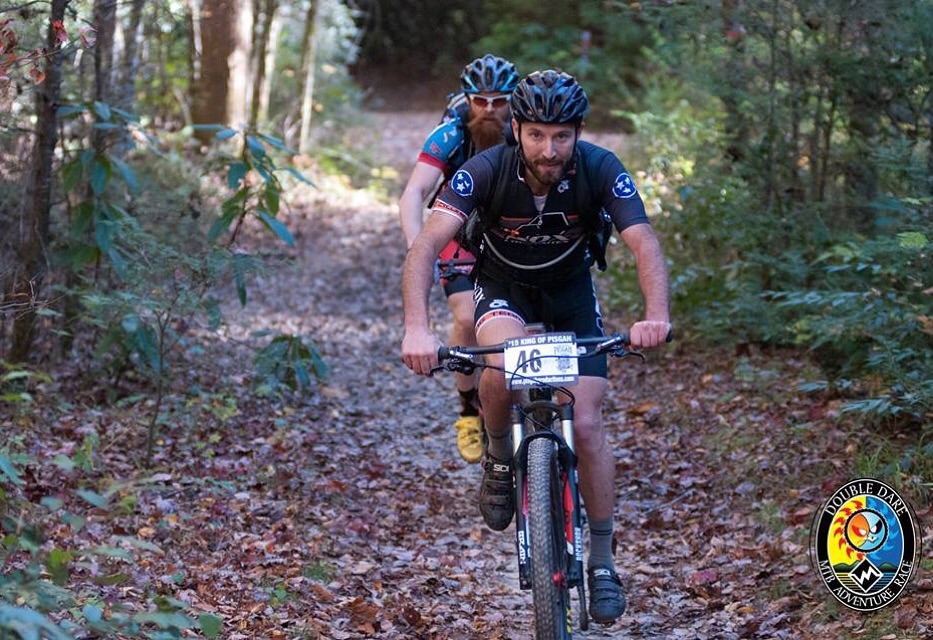 Thanks to the team co-sponsors: